​Advanced Payroll (Iraqi/KRI rules)
​An incorrect approach to the technical side of payroll poses a risk to both employers and their employees: it can cost them money, cause them to incur penalties with government authorities (both Federal Iraq and the Kurdistan Region of Iraq) or worse face legal ramifications. Advanced Payroll Administration will help you become a more astute payroll manager that prepares accurate payroll, who understands the necessary requirements of an employer, federally and regionally, and who can meet the demands of an evolving workforce.
This course is particularly aimed at those who wish to enhance their knowledge of core payroll areas including best practice and understand the more complexed aspects of the topic.
Who Will Benefit
This is an ideal course if you are looking to enhance your payroll knowledge and are looking to develop and further your payroll career as well as achieving an industry recognised qualification.
This comprehensive payroll training course is also invaluable to Finance and HR staff who have responsibility for the payroll operation as part of their wider remit. As well as a practical overview of the complex areas of Personal Income Tax, Social Security, Allowances, Severances etc from pay. This course reviews core areas that affects the overall performance of the payroll function under Federal Iraq and Kurdistan Region employment laws across industries.
What You'll Learn
By the end of this course, you will be able to produce a payroll run for any period for a payroll of any level of complexity and understand and calculate all employer remittances for deductions taken at source, while fully understanding the consequences of non-compliance. Specifically, you'll understand the compliance requirements federally and regionally under the Iraqi Labour Code.
​
​
Agenda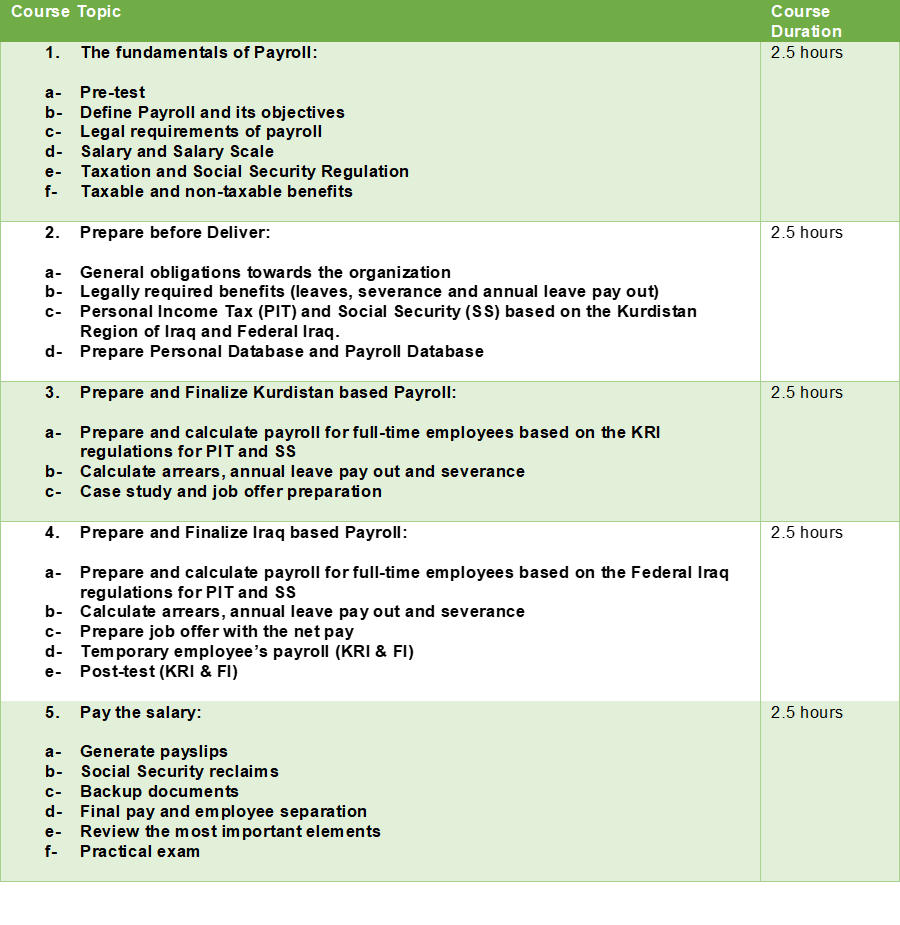 Certification
MSELECT Certification
​
Payment
Must be made 7 working days before the start of the course. Payment can be made in cash, by bank transfer or through exchange offices.
The time and duration.
Duration: 5 days

Time: 17:30 – 20:30 pm

Language: English

Cost: $300
​
​
How do I register?
You can register by emailing training@mselect.com with the following details:
Full Name:

City/Town:

Email Address:

Phone number:

Name of the course: