3 Course Overview
This course provides learners with the skills needed to safely handle, store, transport, and dispose of hazardous chemical waste. It will enhance learner understanding on the on the risks associated with chemicals used in the workplace and the measures that can be implemented to control those risks.
Target Audience
Anyone who works with chemicals to ensure their safety, comply with regulations, prevent accidents, and advance their professional development.
Course Content
Identification of hazardous chemical waste

Chemical waste management

Regulatory compliance

Risk assessment and mitigation

Emergency response

Identification of Chemical Security Vulnerabilities

Managing hazardous waste

Waste reduction, reuse, and recycling
Course Objectives
Upon completion of this course, learners will be able to:
Identify hazardous chemicals and their properties, risks, and effects on human health and the environment

List regulatory requirements for handling, storing, transporting, and disposing of hazardous waste

Identify and classify different types of hazardous waste

Use safe handling, storage, and disposal techniques for hazardous waste

Analyse and create risk assessment and mitigation strategies for hazardous waste management.

Develop and implement emergency response procedures for chemical spills and releases and best practices for waste reduction, reuse, and recycling

​
Agenda
​
​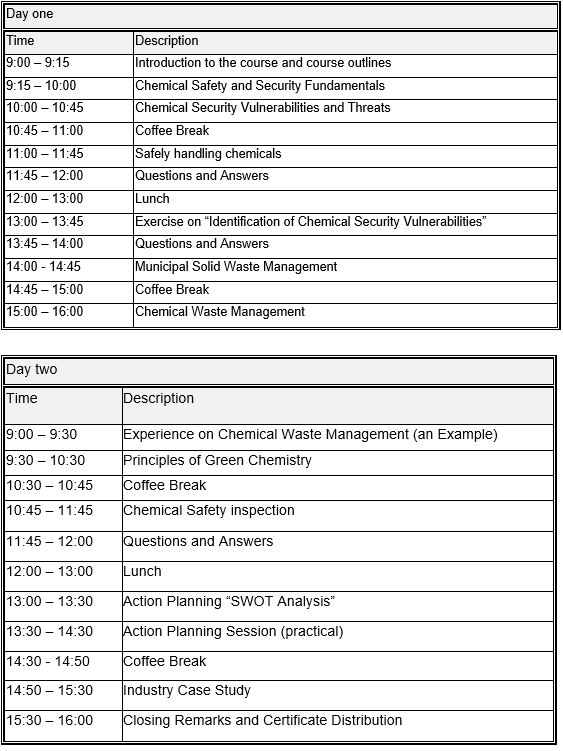 ​
Delivery Method
This course will be delivered through a combination of classroom instruction, hands-on activities, and online learning modules.
Payment
Must be made 5 working days before the start of the course. Payment can be made in cash, by bank transfer or through exchange offices.
​
​
Time and Location
Location: Erbil, mselect

Duration: 2 days

Time: 09:30 – 16:00

Refreshments included

Price: $225
How do I register?
You can register by emailing training@mselect.com with the following details:
Full Name:

City/Town:

Email Address:

Phone number:

Name of the course: