Business Strategy and Emerging Leadership
Course Overview
The business world is changing at a fast pace. It is becoming increasingly unpredictable. Under such volatile and uncertain conditions, traditional strategy-making processes become somewhat ineffective. In such a dynamic environment, a real-time approach to strategy building is required that is specific to an organization and is reflective of its current goals. Traditional approaches to strategy making the focus on projecting the past into the future or speculating about the future using current trends. Real-time strategy building is about living in the moment. It considers what is relevant to an organization right now and what precise strategy will help in accomplishing it. This organic approach to strategy building helps organizations create timely strategies that are relevant today and which could be transformed as the organization moves from today into a new tomorrow.
​
This program draws attention to strategic management, organizational development, employee and owner psychology, and effective learning. It involves building a physical model of a strategy by evoking and extracting useful insights and powerful thoughts within an organization. It presents answers to, and understanding of, issues in a concrete form that are easy to comprehend. Amongst other management areas, it can be utilized for real-time strategy building for teamwork, leadership development, ideas generation, change management, and opportunity/threat analysis
​
Course Objectives
Identify key strengths and align leadership levels

Be able to act agile and result-oriented

Gain an understanding of organizational needs for effective performance

Learn from leading practices

Preparation for the moments of potential challenges in business

Learn how to plan and develop a strategy on a holistic level

Learn from peers' experiences in various industry
​Learning Outcomes
At the end of the workshop, the participants should be able to:
Physically visualize their organizational strategy through model building.

Share their individual reflections, thinking, and experiences to create an organizational strategy.

View an organizational strategy from different perspectives through 100% engagement.

Live the strategy rather than just writing a strategic plan.

Channel their experiences, hopes, aspirations, fears, and expectations into a real-time strategy.
​Who should Attend
In general, middle, and senior management should benefit from this hands-on short course. More specifically, managers/directors/Owners /Family businesses dealing with leadership, team building, innovation management, change management, human resource management, and relationship management strategies should find this workshop very useful.
​
​
Training Methodology
The course is based on bridging the current challenges to building a strategic output.

Participants will learn by developing an operating model in best and worst-case scenarios and learn through brief presentations and group exercises to exchange experiences too.

​
Agenda
​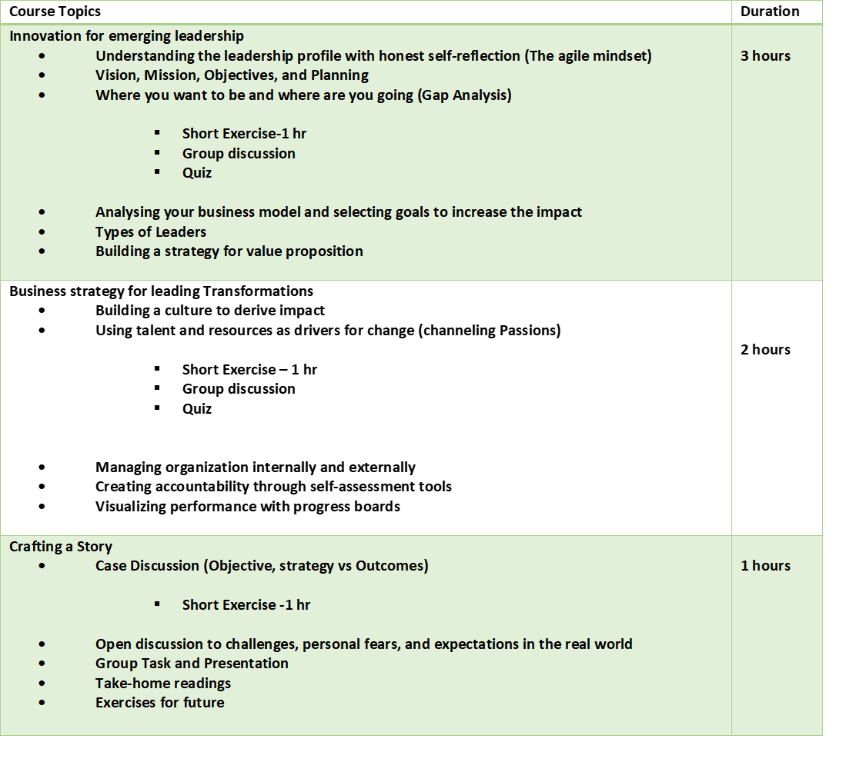 About the Trainer:
Alvina has 10 years of experience in strategy consulting. She has delivered strategy and business development projects for well-known global companies such as Honda and Toyota and she has a focus on value chain analysis and internal control strategies.
Alvina has extensive experience in building and analyzing business cases for large projects as well as a proven track record in project management. She has been engaged in several high-profile strategy projects for various individuals, US startups, emerging organizations as well as companies in Kurdistan & Pakistan. She has extensive experience in writing in the self-help niche for global clients in London, Australia, Switzerland, Colombia, Netherlands, New Zealand, Ohio, Pennsylvania, New Jersey, Berkeley, Lake Wales, Canada, Pueblo, Dallas, Italy, Japan, Philippines, Vietnam, Israel, Ukraine, Bulgaria, Portugal, Bangladesh, Oman, Bahrain, Iraq, Iran, India, China, Malaysia, Pakistan.Today Alvina is running a company "thewriterslounge" and she continues to use her skills in consulting and professional writing.
​
Qualification
Certificate in Project Management (PMI)

Certificate in Transformation Intelligence (Deloitte)

Certificate of technical writing (Deloitte)

Bachelor's in Commerce (Uok)

Diploma in Advanced Financial Accounting (ACCA)
Time Schedule
Date: 30th June 2022

Time: 09:00 – 16:30 pm

Language: English

Location: Erbil, Iraq

MSELECT Certification & Refreshment included

​
Where are classes held?
All courses will take place at MSELECT Academy's training center in Erbil. Please check www.mselect.iq for full address.
How do I register?
You can register by emailing training@mselect.com with the following details:
Full Name:
City/Town:
Email Address:
Phone number:
Courses you wish to take:
For more information, please call 066 261 4455 or (0)772 617 5794
​